Skip to Content
Sexuality Education Resources Order
Sexuality Education Sticker Book for Children
Code: P73
Checkout
Please read "Purchasing details".
For local orders, mailing orders and purchasing in person at Activity & Resources Centre are both welcome.
If you are ordering outside Hong Kong area, please choose overseas pre-order. Our staff will confirm the final price (including postage and administrative fee) with you by email later.
---
Download Form
Order Details
Topic

Sexuality Education, Family Sexuality Education

Author

FPAHK

Language

Traditional Chinese, English

Targets
Category

Book

Publisher

FPAHK

Publish Date

2009-07-01

Selling Price

HK$ 40

Delivery Cost

HK$ 8

Overseas Price

HK$ 40 Price + Postage + Admin Fee (Final price to be confirmed by email)
This is a sticker book suitable for children from age 3-6! By putting the stickers at the right places, children can learn 4 different topics relevant to their sexual development and needs: Starting from knowing their own bodies to understanding how babies are conceived; also learning to recognize the uniqueness of being a boy and a girl and be equipped with the concept as well as skills of self protection against child sexual abuse.
As this sticker book is considered a parent-child sexuality education resource, the participation of parent is therefore highly recommended! Parents can also use our colorful picture book "Tak Tak Kar Kar Sexuality Education Series for Young Children (3-6)" to introduce the concepts to children more clearly.
This sticker book can help children understand:
l Body parts: Children get to know their body parts including the names and functions of the sex organs and to cultivate a healthy and positive attitude.
l Boys and Girls: Learn to appreciate the uniqueness in everyone, and to respect other people of the same or the other sex.
l Where did I come from? : Provide accurate information about the origin of life. The important message is "You are the fruit of your parents' love."
l Self protection: Teach children about their private parts and learn to distinguish between good and bad touches.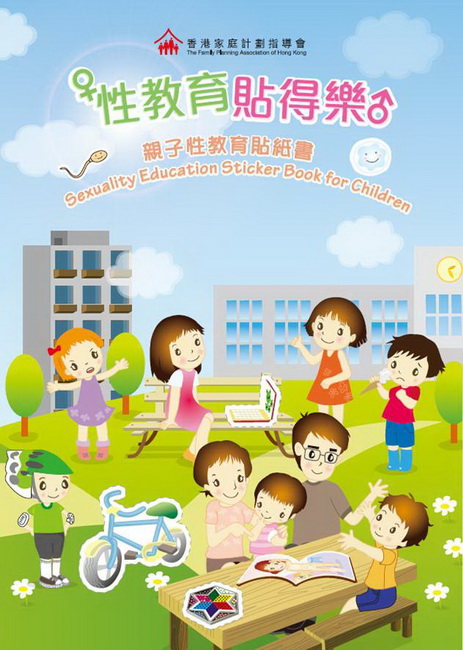 ---