Skip to Content
Report on Youth Sexuality Study 2021 (Secondary School Survey)
Strengthening comprehensive sexuality education and media and information literacy education was called for in response to the findings of the Youth Sexuality Study 2021 released today to cater to the needs of adolescents. The findings revealed adolescents' enhanced awareness and greater acceptance of gender and sexual orientation diversity on one hand, and increased exposure to pornography and image-based sexual violence and engagement in "naked chats" on social media and consistently poor sexual knowledge on the other hand.
The Youth Sexuality Study (YSS) has been conducted by The Family Planning Association of Hong Kong (FPAHK) every five years since 1981 and monitors changing trends in local youths' knowledge, attitudes and behaviours related to sexuality, said Mr. Sun Chan, FPAHK's Statistics & Information Technology Manager. The ninth YSS was carried out during the period between May and July last year and successfully polled a total of 8,343 secondary school students from Form One to Form Six (F.1-F.6), with 3,713 girls and 4,630 boys, in the Secondary School Survey.
Survey Findings
Professor Yip Siu Fai, Paul, the Association's Honorary Adviser and Chairman of Research Subcommittee, presented the key findings of the Secondary School Survey of the 2021 Survey (YSS 2021).
Sexual Knowledge & Sexuality Education
Students' sexual knowledge remained unsatisfactory in 2021. F.3-F.6 students scored an average of 8 correct answers out of 12 key questions regarding conception, sexually transmissible infections (STI) and HIV/AIDS in 2021, similar to that in 2016. The average score of F.1-F.2 students, remained undesirably low at 5-6 in 2021. Among the wide range of sexuality education topics in which students indicated interest, the most popular were "dating and love", "adolescent development", "safe sex", "preventing and dealing with sexual harassment" and "sexual orientation".
Sexual Attitudes
Compared with previous surveys, there was a trend of higher acceptance among the students in general of such behaviours as pre-marital sex and co-habitation. Acceptance of Lesbian, Gay, Bisexual and Transgender (LGBT) was significantly higher than in 2016, continuing the upward trends over the past decade. Nearly 80% of F.3-F.6 girls and more than half of their male counterparts accepted female and male homosexualities and bisexuality.
Gender Identity
Questions regarding gender identity newly introduced in the 2021 Survey found that about 14% of students were unsure about their gender identity. A small proportion of students indicated that their gender identity was different from their innate sex, which was more common among girls (4%) than boys (2%). Among these small percentages, about 23% of girls and 30% of boys had considered changing gender.
Sexual Orientation
Concerning their sexual orientation, a majority indicated that they were heterosexual; 13% of girls and 5% of boys said they were bisexual; about 2% of girls and 1% of boys said they were pansexual (experienced sexual attraction towards people regardless of their sex or gender identity); about 5% of both genders said they were asexual (experienced no sexual attraction towards the opposite sex, same sex or any gender identity); and about one-sixth were uncertain.
Dating Experience
The prevalence of dating experience among secondary school students were generally declining over the previous 15 years. Less than one-fifth of F.1-F.2 students and about one-third of F.3-F.6 students had dated. Among those with dating experience, the average age of first dating was 11 years old among F.1-F.2 students and 13 years old for F.3-F.6 students respectively, approximately the same over the previous 15 years.
Over 40% of those with dating experience had experienced conflicts, and over 65% had experienced break-up for a variety of reasons. When dealing with conflicts, the majority compromised or made concessions. Of concern was the fact that among these students, 13% of girls and 6% of boys dealt with conflicts by resorting to physical violence by harming themselves or each other; about 5% of both genders verbally insulted or intimidated the other party.
Marriage and childbearing Intentions
There was a continuous downward trend in the marriage and childbearing intentions among secondary school students over the past decade. In 2021, around 80% of them said they would marry in future, down from around 90% in 2011. In 2021, 55% of girls and 70% of boys said they would have child(ren), down from 80% and 84% respectively in 2011.
Sexual Experience
Overall, only 1% of F.1-F.2 students and 4% of girls and 6% of boys among the F.3-F.6 students had sexual intercourse experience in 2021, lower than the corresponding figures in 2016. The mean age of first sex among the F.3-F.6 students who had commenced sexual intercourse remained quite constant at 14-15.
Social Media Experiences
Concerning social media experiences, in 2021, around 60% of girls and 65% of boys had been exposed to pornographic content on social media, up from 33% and 59% respectively in 2016. Around 3% of girls and around 7% of boys had been engaged in naked chats, up from 1% and 2% respectively in 2016. The proportion of those who had been bullied online remained at around 10% as in 2016. Around 5% of girls and 9% of boys had experienced image-based sexual violence. Around 17% of girls and 24% of boys received pornographic messages or images; 5% of girls and 11% of boys have sent them to others.
Human papillomavirus (HPV) vaccination
HPV vaccination coverage among F.1-F.6 girls rose to 25% (F.1-2: 20%, F.3-6: 30%) in 2021 from around 10% in 2016. Only 1% of F.1-F.6 boys have received HPV vaccine.
The most common reasons for being unvaccinated were "never heard of this vaccine", "not sure about its functions", "not sure about its safety", "no recommendation from health professionals" and "not knowing where to get it" among both genders, and "it has nothing to do with me" among boys.
While 60% of girls were aware that HPV vaccination helped prevent cervical cancer, only 39% of girls and 28% of boys were aware that it also helped prevent genital warts and 26% of girls were aware that regular cervical cancer screening would still be required even after vaccination.
Conclusions and Recommendations
Dr. Lam Wai Cheung, Mona, FPAHK's Executive Director, said the survey findings underscored the necessity for comprehensive sexuality education (CSE) and media and information literacy education to be introduced early and strengthened both at home and in schools. CSE should go beyond knowledge acquisition to focus on instilling positive attitudes and values and fostering life skills, such as critical thinking, decision making, communication skills, conflict resolution and self-management, to empower adolescents to make informed and responsible choices. A variety of topics such as dating and intimacy, safer sex, pornography, cyber-violence, gender identity, sexual orientation and gender-based violence, tailored to the needs, interests and psychological developments of adolescents, were recommended. CSE, delivered in a non-stigmatizing and age-appropriate approach, worked effectively by fostering healthy relationships, self-love, respect, and understanding about boundaries and consent, she added.
Dr. Lam voiced her concern over the influences of social media use in particular on adolescents during their formative years as reflected from the findings and stressed on the importance of media and information literacy. Misinformation and sexual behaviour risks abounded in the cyberspace which considerably accounted for adolescents' insufficient sexual knowledge and increasing exposure to pornography, sexting, naked chats and image-based sexual violence. This had been especially true amid the COVID-19 pandemic and social distancing as adolescents tended to spend more time online in the past couple of years. Educators and parents should stay updated with social media trends, enhance communication with young people and try to instill necessary knowledge and life skills for making healthy decisions to avoid cyber risks.
Dr. Lam said, given that the HPV vaccine has been provided to primary five and six female students under the Hong Kong Childhood Immunisation Programme starting from the 2019/20 school year, the rise in HPV vaccination coverage among secondary school girls was still less than satisfactory. She cited as the major reasons that amid the COVID-19 pandemic, HPV vaccination plans were interrupted as the public avoided going out or to clinics in fear of COVID-19 exposure, logistic challenges during school closure and manpower shortage in the healthcare sector, and priorities shifts at the height of pandemic. She urged parents and schools to encourage young people to receive HPV vaccine following the recommended schedule or to catch up as soon as possible. She recommended it for both boys and girls because HPV can cause cervical cancer in females, and other HPV-related cancers and genital warts in all genders. She reminded that the HPV vaccine worked best when given between ages 9 and 14 and prior to sexual debut.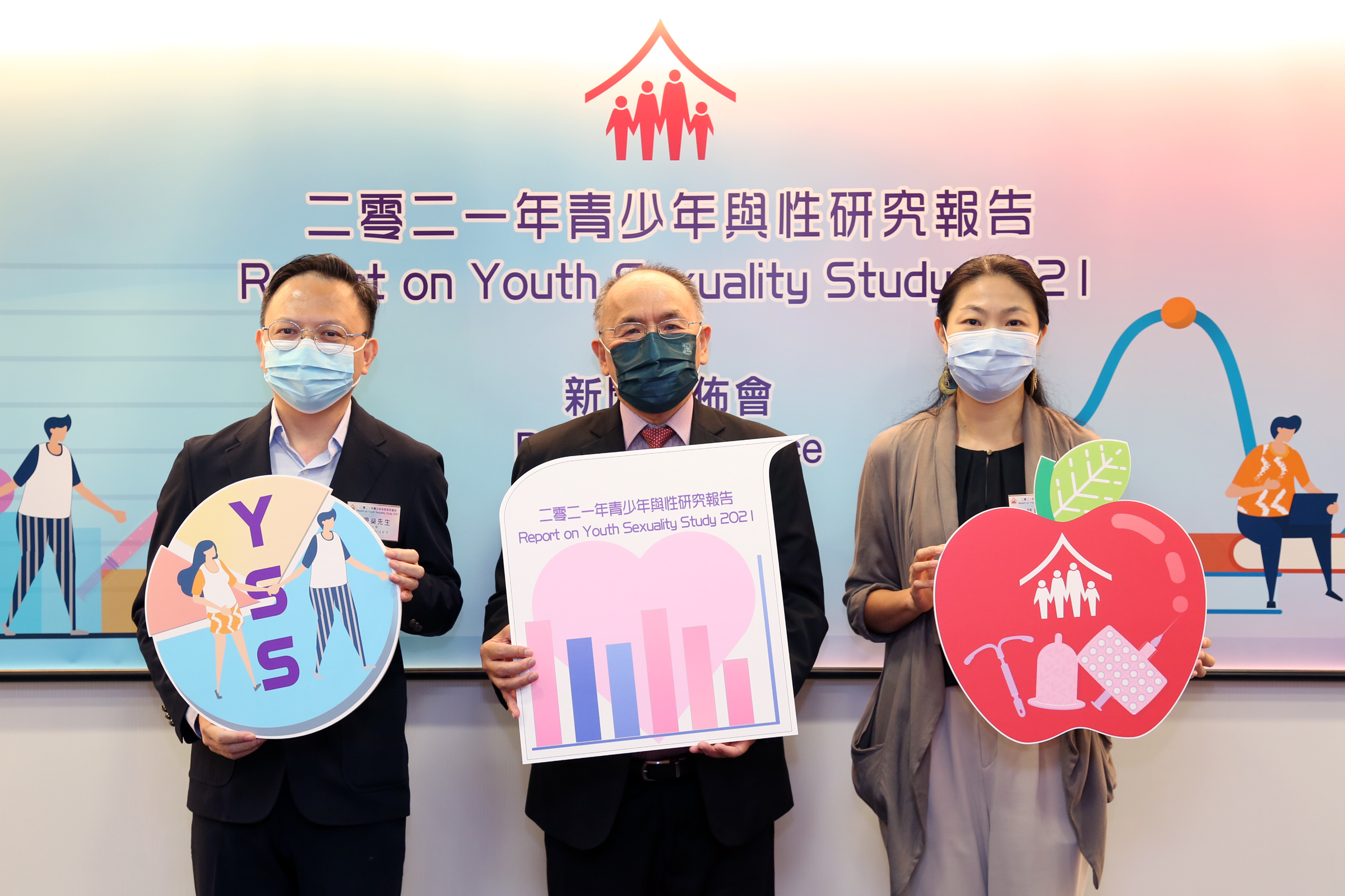 Note: PowerPoint file of graphs of the Study findings (available in Chinese only) is available for download in the Press Release Section under Media Centre on FPAHK Website (www.famplan.org.hk)